Tap To Widgets 1.0.1
por
20 de abril del 2013 11:42 AM EST
/
Hola iPhoneaticos, Tap To Widget es un jailbreak tweak, que trae Recordatorios, Notas, Calendario y accesos directos para el centro de notificaciones de iOS. Pulse para Reproductores le permite añadir fácilmente un artículo a alguna de estas aplicaciones sin tener que abrir completamente la aplicación en cuestión.
El Tweak aún presta la posibilidad de añadir elementos a cuentas específicas, tales como un calendario diferente, o lista de recordatorios. Este es un muy bien diseñado que ajustar funciones como se puede imaginar que haría si Apple fuera detrás de él.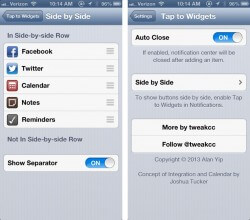 Como ustedes saben, iOS ya cuenta con dos construido en los widgets de valores que se pueden activar mediante el panel de preferencias de notificaciones en la aplicación Ajustes. Estos widgets de valores, conocidos como Compartir Reproductores, permiten a los usuarios interactuar rápidamente con cuentas de Twitter y Facebook.
Tap to Widget ofrecen las palabras "Tap a Tweet" y "Toque en Post" a cualquiera publicar un nuevo tweet en Twitter, o publicar un nuevo post en Facebook. Esta fue la inspiración detrás del jailbreak tweak ese es el tema de nuestra discusión, y por lo tanto, es también el lugar donde el truco deriva su nombre.
Con Tap to Widget puede mostrar de forma independiente cualquiera de los cinco widgets que el truco incluye, e incluso se puede optar por mostrar sólo un widget si eso es lo que deseo hacer.
Requisitos:
• Tener un iPhone, iPod Touch o iPad
• Tener iOS 6.0 o Superior.
• Tener hecho el Jailbreak en tu Dispositivo, si aún no lo has hecho:
http://iphoneate.com/con-que-hago-el-jailbreak-o-el-unlock-de-mi-dispositivo
• Si no entiendes alguna palabra de este Post, entra a nuestro Glosario:
http://iphoneate.com/iphone-glosario-todo-sobre-lo-que-deseas-saber
Si en caso el tweak es un archivo .deb debes poner el requisito
• Saber cómo instalar Aplicaciones .deb en tu Dispositivo Vía SSH, si no sabes como:
http://iphoneate.com/instala-archivos-deb-facilmente-en-el-iphone