Ya se encuentra disponible en la Mac App Store Alien: Isolation – The Collection
por
6 de noviembre del 2015 7:27 PM EST
/
Para todos aquellos que pensaban que la única buena noticia que tendrían en todo el día era la liberación del increíble juego de Tomb Raider: Anniversary en la Mac App Store, están realmente equivocados, pues acompañando la liberación de este juego se encuentra otro maravilloso juego que seguro encantara a todos, quince años después del lanzamiento de Alien, ahora pueden disfrutar del juego Alien: Isolation – The Collection, por tan solo $49,99.
Disfruta de Alien: Isolation – The Collection en tu Mac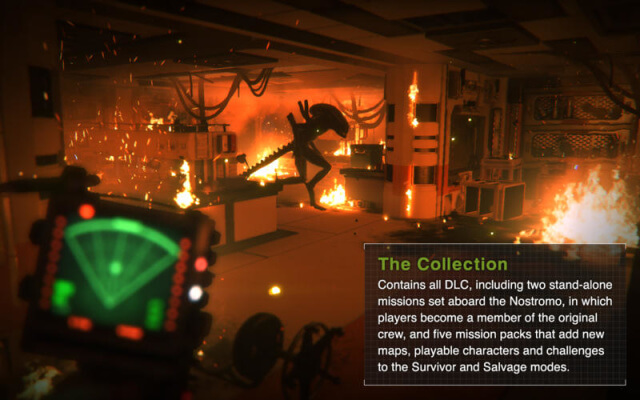 Desarrollado por la especialista en juegos Feral Interactive, este juego de survival/horror, ofrecerá una experiencia espectacular trayendo nuevos mapas, nuevos personajes, desafíos en modo de supervivencia que realmente retaran a los jugadores, todo esto viene incluido 5 paquetes de misiones, adicionalmente incluye dos misiones independientes a bordo del impresionante Nostromo convirtiéndote en miembro de la tripulación original, simplemente sublime.
Pero debe tener en cuenta que es un paquete realmente grande, con 20,89GB, claro que está incluido todo el contenido descargable. Se les recomienda a todos los valientes dispuestos a probar este juego que preparen sus nervios, porque en cada esquina puede existir un peligro distinto y muchos de estos usted no se lo esperara, todo una experiencia terrorífica.
Básicamente el juego se trata de estar alerta y fuera de la vista de unos extraterrestres realmente inteligentes que estarán por todos lados, y el objetivo a lograr es descubrir lo que le sucedió a la madre del personaje, que está planeado para ser una tarea bastante complicada.
Los gráficos y la excelente producción demuestran que este es un juego de la más alta calidad, la descripción revela mucho de lo que se puede esperar en este juego, pero cabe destacar que está totalmente lleno de muchas sorpresas, el juego incluye una serie de elementos que usted seguro querrá descubrir por usted mismo, además en el sitio web de Feral hay muchos tutoriales, solo por si acaso algún jugador se queda atascado.
Algunos puntos clave que usted debe definitivamente considerar son, explorar el volátil Sebastopol un lugar lleno de miedo, estar pendiente de ubicar muchos recursos ocultos, artículos de artesanía y el uso de la tecnología de baterías de Sebastopol, además de improvisar distracciones y defensas para mantener a su personaje vivo.
Los creadores le aseguran al jugador que se sumergirá en una atmosfera totalmente clásica de la película de ciencia ficción Alien estrenada en 1979. Pero debe considerar también los requisitos que debe tener su equipo para poder jugarlo.
Los requisitos mínimos que usted debe poseer son, primero un equipo Mac que tenga OS X 10.10.4, con un procesador de 2GHz Intel, 4GB de RAM, una tarjeta grafica con 1GB de memoria de video y un teclado por supuesto, pero existen unos requisitos que son los más recomendados para vivir la experiencia de la mejor forma.
Para esto usted debe tener OS X 10.10.5 o superior en su equipo Mac, un procesador de 2.8GHz Intel, 8GB de RAM, una tarjeta grafica con 2GB de memoria de video y en vez de tener un teclado, es mejor que usted posea un gamepad.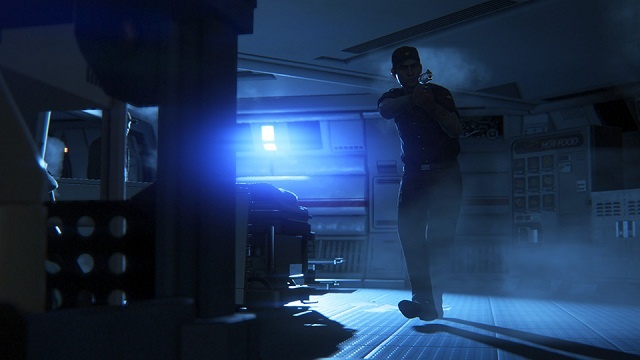 Es importante que sepa que hay una lista larga de tarjetas graficas que no son compatibles con este juego, a continuación se le presentan para que usted pueda resolver si desea probar el juego y posee una de las tarjetas mencionadas.
Estas tarjetas no compatibles son: AMD Radeon HD serie 4xxx, serie ATI X1xxx, serie ATI HD2xxx, Intel Iris 5100, Intel HD5000, Intel Iris 6100, Intel HD6000, Intel HD5300, Intel serie GMA, Intel HD3000, Intel HD4000, NVIDIA 1xx, serie 9xxx NVIDIA, la serie 8xxx NVIDIA, NVIDIA 7xxx series y series 3xx NVIDIA.
Puede descargar el juego también a través de Steam o en la tienda Feral, pero seguro es mas cómodo ahora que lo tiene en su Mac App Store, este está disponible en inglés, checo, francés, alemán, italiano, polaco, portugués, ruso y por supuesto en español, y debe posee al menos 35GB de espacio libre en su Mac si desea hacer la instalación.
Alien: Isolation – The Collection | Mac App Store