XModGames: Hackea y modifica juegos como Clash of Clans en iOS
por
15 de enero del 2016 11:00 AM EST
/
Clash of Clans se ha convertido en uno de los juegos de estrategia más populares para los usuarios de las plataformas móviles, especialmente quienes utilizan un iPhone o iPad. Aunque normalmente este juego online no cuenta con algún tipo de "trampas" que los jugadores puedan realizar durante sus invasiones a otras fortalezas enemigas, existe un método que de seguro ayudará en la victoria.
En estos casos, existe un tweak bastante útil llamado XModGames, el cual no solo nos permitirá hackear o modificar Clash of Clans, sino que también se podrá aplicar en otros juegos disponibles para iOS, siempre y cuando dispongamos de Jailbreak en nuestro iPhone.
Cabe destacar que para que el tweak funcione correctamente, el juego debe ser ejecutado desde XModGames. Un pequeño mono en la parte derecha de la pantalla será el indicador de que el hack se encuentra funcionando, y en el caso de que deseemos configurar algunos aspectos, podemos pulsarlo para que se desplieguen las ventanas de configuración del tweak.
La demostración dada en el video, hace énfasis del hack en el juego de Clash of Clans, permitiendo al usuario simular batallas contra un oponente de prueba. El menú de XModGames dentro del juego, también brinda la oportunidad de que el jugador añada enormes cantidades de soldados para ambos bandos, además de subir al máximo nivel a los héroes.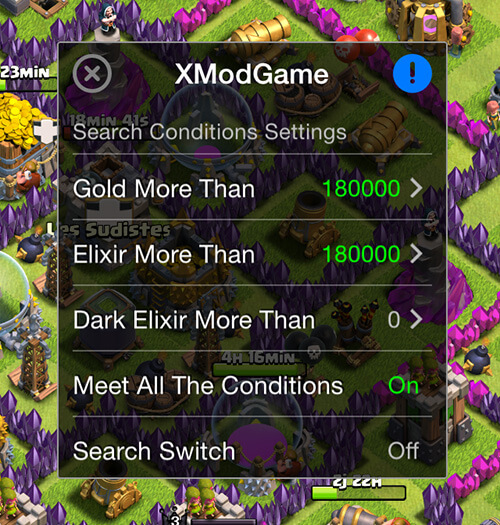 Para evitar cualquier trampa durante batallas reales contra otros jugadores, el tweak desactiva la opción que nos da la oportunidad de agregar tropas o aumentar el nivel de los héroes como en las simulaciones. Sin embargo, permite visualizar las trampas de la fortaleza enemiga durante una invasión, una ventaja que de seguro ayudará a proteger las tropas para asegurar una victoria si disponemos de una buena estrategia de ataque.
Disponibilidad
XModGames se puede adquirir de manera gratuita a través de cualquier repositorio de Cydia, y es compatible con cualquier dispositivo que utilice una versión de iOS 7 o posterior.