Wave: La aplicación móvil que tiene la misión de unir personas
por
3 de febrero del 2014 6:37 PM EST
/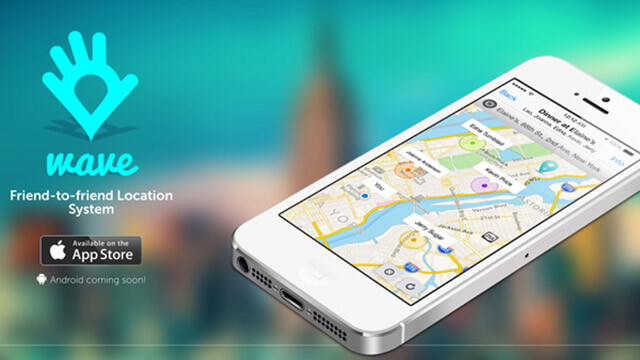 En cientos de situaciones del día a día necesitamos poder encontrarnos de una manera eficiente y eficaz. Imagínate salir del trabajo, ir a un concierto con tus amigos, realizar un viaje de sky. No puede ser que con las posibilidades tecnológicas actuales, sigamos escribiéndonos o llamándonos para saber dónde estamos. Y si estamos en movimiento la tarea resulta mucho más difícil…
Lo cierto es que no existe una solución real… hasta ahora. Wave es la manera más sencilla de localizar a tus familiares y amigos en un mapa PRIVADO y en TIEMPO REAL.
¿Cómo funciona Wave?
Puedes abrir un Wave con cualquiera de los contactos de tu agenda que tenga la app también instalada. No tendrás que añadir a nadie, ya que Wave te muestra automáticamente todos estos contactos activos en la pantalla de Favoritos. Sólo tienes que seleccionar el contacto deseado y solicitarle localizaros durante un determinado tiempo (desde 15 minutos a 12 horas). Cuando (y sólo si) tu contacto acepte tu petición, se os abrirá a ambos un mapa privado y en vivo que muestra vuestras dos posiciones en tiempo real. Podéis cambiar la duración, eliminarlo, o guardar la petición para más tarde. Una vez consumido el tiempo, ese Wave se expirará automáticamente y dejaréis de ver vuestras posiciones, a menos que ambos querráis re-activar el Wave. También puedes crear Waves de grupo, pudiendo añadir hasta 10 personas. Además, en los Waves de grupo el creador puede fijar un "Meeting Point" (punto de encuentro), visible para todos los miembros.
¿Qué opinan los usuarios de Wave?
"Tan sencilla que piensas cómo no se le ha ocurrido antes a nadie. Y ahí está su magia. A diferencia de otros servicios, la app te permite enviar waves a mis amigos, durante un tiempo limitado y sólo se activa si ellos aceptan. Perfecto para ir a comprar al centro comercial y enviarle a tu pareja un wave de un par de horas, dividiros para comprar y saber en todo momento por dónde se mueve cada uno."
Pero, esto ya existe, ¿no?
NO. Han salido otros productos como Apple Find My Friends, Google Latitude, Glympse, etc que han tratado de dar una misma solución sin éxito, fundamentalmente por problemas de privacidad, complejidad de uso, experiencia de usuario, usabilidad…
Por tanto, lo que sí existe es una oportunidad gigante de liderar un mercado huérfano de localización entre contactos, motivo por el cual ha nacido Wave.
"Nuestro valor diferencial es la privacidad, simplicidad, dinamismo y utilidad del servicio"
Wave ha comenzado a cosechar éxitos internacionales, como participar en el Web Summit de Dublin o alcanzar el Top 1 del Apple Store de Brasil.
"Every open Wave is bringing people together in real life. And joining people always means the beginning of something new".