Theme : Dbar for Paramore 1.0
por
22 de marzo del 2010 11:39 AM EDT
/
Hola iPhoniaticos Theme dbar,  para todos los fans de el grupo  Paramore este thema  personaliza en casi toda su totalidad tu iPhone & iPod Touch , esta bien completo y espero que les guste.
Requisitos:
Instalar de  Cydia :
WinterBoard
iBlank
SB Settings
Infiniboard
Infinidock
Five-Colum springBoard
Lockscreen Clock Hide
Slide To Unlock Killer
Ruta para instal el Theme :
private/var/stash/Themes o Library/Themes
Descargar Tema:
Instrucciones:
Ingresa a cydia ve a search y descarga:
Luego descargar : Lockscreen Clock Hide que se activa en la ruta : Ajustes/Clock Hide
Luego de haber  habilitado el Lockscreen Clock Hide, vuelves a cydia y descargas  Slide To Unlock Killer; donde lo habilitas en winterboard y tambien habilitaras el lockscreen que viene en el thema.
Despues de haber instalado estas dos aplicaciones de cydia tu lockscreen se vera asi:
Ahora para instalar el thema Dbar nesecitaras Iblank creando 14 iconos en blanco y acomodandolos en esta posicion:
Una vez hecho los iconos transparentes y haberlos colocado en su posicion en el dock con Infinidock  habilitandolo con 5 iconos en el dock acomodaras las siguientes aplicaiones : musica, videos, fotos, im+, ajustes, mbox mail, cydia,intallous,air mouse,ifile,app cake (las ultimas 7 aplicaciones son variadas dependiendo de las que tengas en tu dispositivo) luego  volvemos a winterboard  y marcamos el thema de paramore, no undocked icons labels y no docked icons labels
El thema que quedara asi , para poderle cambiar las ciudades en el thema te vas a la carpeta widget/Configs y abres el documento llamado Weather-Config ahi te vas hasta donde dice ("yahooWeather"var locale = "USNY0996" /*CSXX0009"*)cambias los qu estan subrayados por el clima de tu region qu ela encontraras en yahoo weather.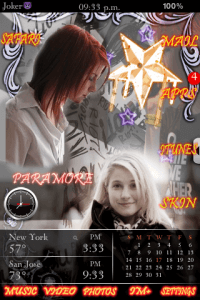 Screenshots:
Bueno espero les guste el thema, y a disfrutar de los frutos de nuestro iphone y ipod touch.