Solución para poder utilizar la vista divida o split view en OS X El Capitan
por
9 de octubre del 2015 10:04 AM EST
/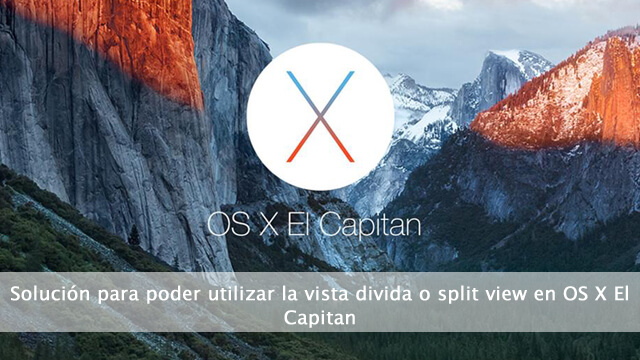 Una de las funciones más prometedoras para aquellos usuarios que disponen de un iPad y decidieron obtener la nueva actualización del sistema operativo de Apple OS X El Capitan, es la de la vista divida, la posibilidad de usar dos aplicaciones al mismo tiempo en la pantalla. Pues algunos usuarios han presentado un ligero inconveniente a la hora de usar su nueva función, lo que generó un disgusto justificado en cada uno de ellos.
Ocurre que la imposibilidad de usar esta función se debe a un detalle muy simple, pero resulta muy importante y es que, aquellos usuarios que realizaron su actualización de OS X El Capitan a partir de una versión anterior del software, son los que presentan este problema, y esa la razón por la cual la función de vista divida no les funciona.
Pasos para poder activar vista dividida o split view en OS X El Capitan
Por fortuna para todos aquellos que presentan este inconveniente, existe una solución que es realmente sencilla de aplicar y les quitara la molestia de encima. Siguiendo una serie de pasos, los cuales se deben realizar al pie de la letra, podrá comenzar a disfrutar su nueva función que tanto les había llamado la atención.
Lo primero que debe hacer es ir a las preferencias del sistema en el menú de Apple. Luego deberá escoger la opción de "Mission Control", y le aparecerán una serie de opciones, en la cual vera una casilla que dice "Displays have separate Spaces" desmarcado, pues usted tiene que marcarla. Al realizar esa acción debe salir de ahí y de preferencia reiniciar su dispositivo para que el cambio surta efecto. Resumiendo:
1. Dirígete a las Preferencias del Sistema, desde el menú de Apple , y selecciona la opción "Mission Control"
Asegúrate de que la opción en el checkbox "Display have separate space" se encuentre activada/marcada
Sal de tu sesión de usuario, o simplemente reinicia tu Mac para que los cambios tengan efecto.
Al volver a encender su equipo y probar de nuevo, su función debería estar disponible perfectamente sin ningún inconveniente en OS X El Capitan. Si aun no sabe cómo utilizarla, es fácil, debe buscar el botón verde de la esquina mantenerlo pulsado y se le colocara la vista divida, aunque también puede usar Mission Control para activarla, ahora solo deberá arrastrar a la otra mitad la aplicación que usted desee y aprovechar esta ventaja al máximo.
Ahora cualquier usuario podrá disfrutar de la opción de vista dividida de  OS X El Capitan.