No podrás disparar en Deus Ex: The Fall si tienes hecho el jailbreak
por
15 de julio del 2013 3:04 PM EST
/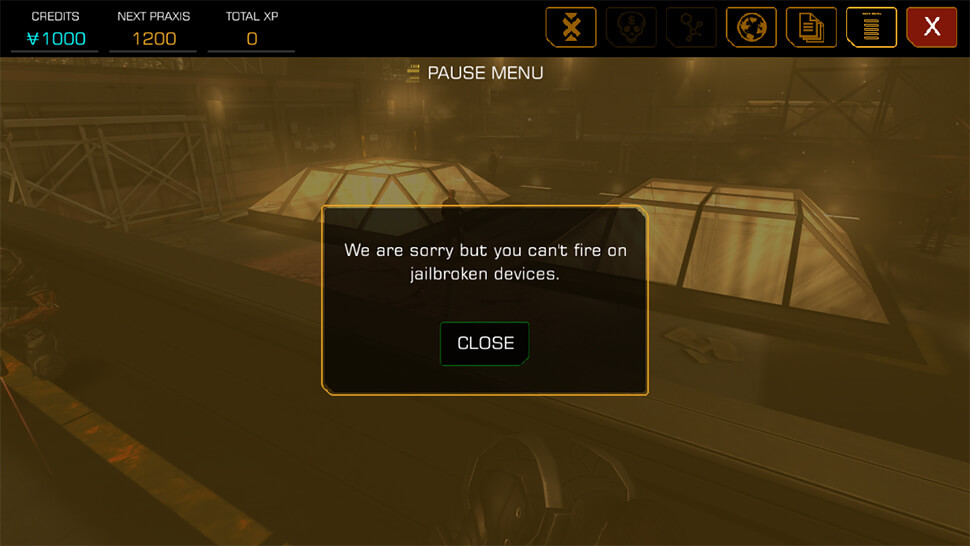 Hola Amigos de iPhoneate!, Curiosa la medida que han tomado desde Eidos para luchar contra la piratería en uno de sus títulos más carismáticos. Deux Ex: The Fall, secuela exclusiva para iOS de uno de los juegos más alabados para PS3 y Xbox 360,no te dejará disparar ni un solo tiro si tienes hecho el jailbreak en el dispositivo, incluso si compras legítimamente el título.
Tras la marea que hubo por la polémica decisión de Eidos Montreal de llevar la secuela de Deux Ex: Human Revolution, el esperado Deux Ex: The Fall, en exclusiva a la plataforma móvil y en concreto a iOS, en el lanzamiento del título para iPhone y iPad nos hemos encontrado con una sorpresa que los desarrolladores han incluido para luchar contra la piratería de su título.
Y es que pese a que no es el objetivo del jailbreak el pirateo de aplicaciones, no se puede negar que muchos usuarios ven en él la forma de descargarse cuanto sale en el App Store y utilizarlo gratis. Sin embargo, tanto si te has descargado legítimamente Deus Ex The Fall como si lo has hecho por otros medios, al intentar ejecutarlo en un dispositivo iOS con el jailbreak aplicado aparece la siguiente notificación que informa que no podrás disparar ni un solo tiro. Evidentemente, al ser un juego shooter, con un alto componente de infiltración pero "de tiros" al fin y al cabo, esto hace casi imposible jugar al título como confirman desde Kotaku.
Esta medida está causando una gran polémica. Al fin y al cabo, tener el jailbreak no es algo ilegal y Eidos, aunque se toma la molestia – para cubrirse las espaldas también – de avisar de esta medida en la descripción del título para que nadie se se lleve la sorpresa tras haber pagado, no distingue entre quien se instala el juego de forma fraudulenta y quien se gasta los 5,99 euros que vale el título en el App Store.
Deux Ex: The Fall no es la única ni la primera aplicación que ha tomado esta medida. El proveedor de internet y TV británico Sky hace algo parecido con su aplicación SkyGo. Pese a que tengas derecho a usar esta aplicación para acceder a tu suscripción y ver los canales que la plataforma ofrece online, esto no será posible si tu iPad o iPhone tiene jailbreak. Es una polémica que probablemente no haya escrito su última página, ¿qué opináis vosotros? ¿es legítima una decisión tan salomónica como restringir el juego sólo a quien no tiene el jailbreak pese a que se pague por la aplicación?
SOLUCIÓN:
1. Abre Cydia
2. Busca la aplicación siguiente
Nota: se instalará también xCon Alias (Es normal) tiene dependencias y trabajan en conjunto y vaya que esta aplicación es odiada por los desarrolladores del App Store de Apple y de más zonas fuera del App Store.