Los 5 juegos de Nintendo que quisiéramos tener en iOS
por
28 de agosto del 2014 11:56 AM EST
/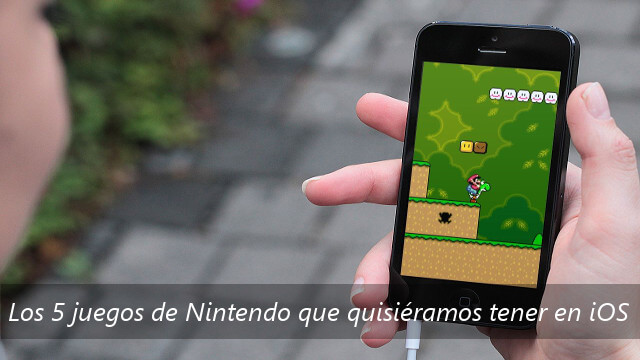 A pesar de tener una gran serie de juegos modernos y con excelentes gráficos para nuestras terminales móviles, los amantes de los juegos conocen el legado de Nintendo quien recientemente cumplió su 125 aniversario, el cual a pesar de los años que han pasado muchos de sus juegos siguen siendo disfrutados por personas de todas las edades y esperados para las nuevas plataformas móviles.
La siguiente es una lista de los 5 mejores juegos clásicos de Nintendo que nos gustaría tener en nuestras terminales de iOS, tanto para iPhone y iPad.
Pokémon
Uno de los clásicos juegos pixelados lanzados para Nintendo es "Pokémon" el cual sería una interesante aplicación para los smartphones de Apple disfrutando un legado y adictivo juego.
The legend of Zelda: Ocarina of Time
A pesar de ser un juego clásico y que ha llegado mejorado hasta plataformas en Nintendo 64, la saga de The Legend of Zelda, el cual inicio su recorrido en 1987, aun no tiene señales de poder llegar a iOS.
WWF No Mercy
Uno de los mejores juegos y que dio inicio a muchos de los juegos de luchas que hoy existen, sin embargo WWF No Mercy fue el mejor entre las alternativas y series existentes. El juego ha llegado a las consolas de Nintendo 64 como ultima opción obligando a los usuarios a usar emuladores para iOS para poder disfrutarlo.
Super Mario Bros
Desde su lanzamiento en 1985 y uno de los más populares y reconocidos juegos con el que todos alguna vez iniciamos nuestro recorrido por los juegos. A pesar de que Nintendo sigue haciendo mucho dinero con el legado del personaje italiano, aun no se ha hecho ningún intento por llevar los famosos personajes y sus amigos a iOS, en el cual muchos pagarían una versión Premium con tal de tener el juego en sus manos.
GoldenEye 007
Uno de los más clásicos juegos de espionaje, acción y estrategias el cual fue lanzado en otras plataformas como el N64, pero que sería interesante poder disfrutarlo en iOS.
¿Y tú conoces otro juego clásico que te gustaría tener en iOS?