Lista completa de los juegos de Apple Arcade antes de su lanzamiento
por
17 de septiembre del 2019 10:51 AM EDT
/
Apple Arcade, es el servicio de juegos por suscripción de la compañía que ofrece una amplia gama de juegos para iOS, Apple TV y Mac por 4,99 dólares al mes. Y será lanzada oficialmente este Jueves.
Y aunque algunos de los juegos, han sido vistos en el evento de Apple en las últimas semanas, no estábamos del todo seguros de qué juegos iban a estar disponibles el día del lanzamiento. Sin embargo hoy, vamos a compartirles los más de 50 juegos para descargar dentro de una amplia gama de categorías, y que estarán disponible en breve.
Todos los juegos disponibles de Apple Arcade
La selección «premium» que se muestra en iOS 13 beta, y que se incluye dentro de los juegos de Apple Arcade 2019, son definitivamente  lo más destacado del desarrollador de Monument Valley usTwo, Ubisoft y Klei Entertainment.
Según Apple, los nuevos juegos de Apple Arcade se añadirán al servicio semanalmente, por lo que hay un montón de juegos adicionales que se incluirán pronto. La interfaz de Apple Arcade es como una mini App Store en sí, con varias categorías de juegos, consejos de juego y mucho más.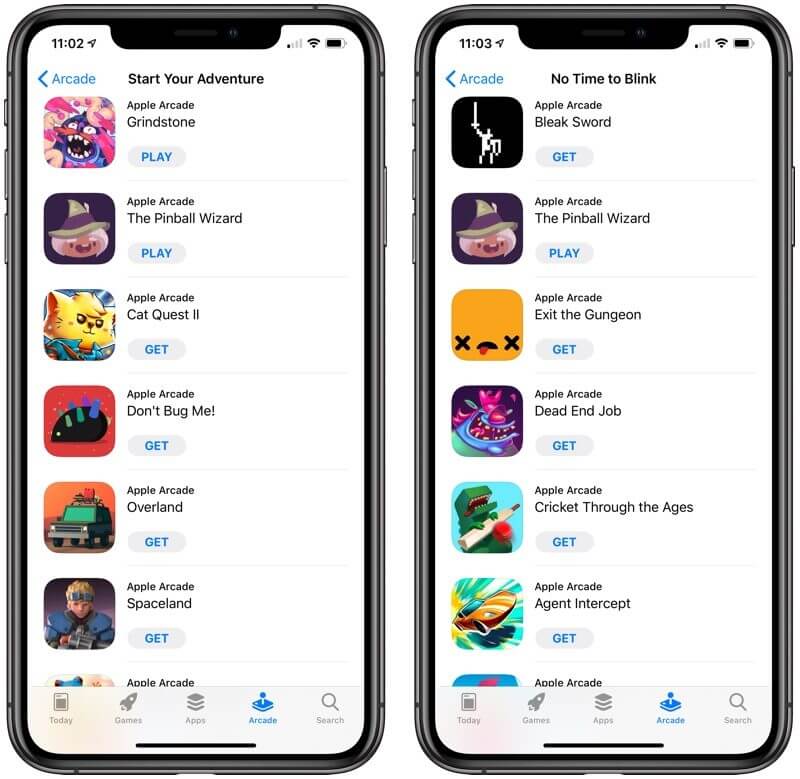 Aquí la lista completa de los juegos alineados y listos previo a su lanzamiento:
Orden de juegos disponibles en Apple Arcade
Assemble With Care (usTwo)
Shantae and the Seven Sirens (WayForward Technologies)
Grindstone (Capybara Games)
WHAT THE GOLF? (The Label)
Card of Darkness (Zach Gage)
LEGO Brawls (LEGO)
Patterned (Borderleap)
Stellar Commanders (Blindflug Studios)
Where Cards Fall (Snowman)
Overland (Finji)
Exit the Gungeon (Devolver Digital)
Rayman Mini (Ubisoft)
Spaceland (Tortuga Team)
Agent Intercept (PikPok)
Punch Planet (Block Zero Games)
Sneaky Sasquatch (Rac7 Games)
Operator 41 (Shifty Eye Games)
Frogger in Toy Town (Konami)
Red Reign (Ninja Kiwi)
Various Daylife (Square Enix)
Mini Motorways (Dinosaur Polo Club)
Don't Bug Me! (Frosty Pop)
Oceanhorn 2 (Cornfox & Bros)
King's League II (Kurechii)
Explottens (Werplay Priv.)
Spelldrifter (Free Range Games)
The Get Out Kids (Frosty Pop)
Spek. (Rac7 Games)
Way of the Turtle (Illusion Labs)
Lifeslide (Block Zero Games)
Neo Cab (Surprise Attack Games)
Skate City (Snowman)
Tint. (Lykke Studios)
The Enchanted World (Noodlecake Studios)
Over the Alps (Stave Studios)
Hot Lava (Klei Entertainment)
The Pinball Wizard (Frosty Pop)
Shinsekai Into the Depths (Capcom)
Word Laces (Minimega)
Dear Reader (Local No. 12)
Projection: First Light (Blowfish Studios)
ATONE: Heart of the Elder Tree (Wildboy Studios)
Big Time Sports (Frosty Pop)
Tangle Tower (SFB Games)
Dread Nautical (Zen Studios)
Mutazione (Die Gute Fabrik)
Bleak Sword (Devolver Digital)
Sayonara Wild Hearts (Annapurna)
Dead End Job (Headup)
Cat Quest II (The Gentlebros)
Dodo Peak (Moving Pieces)
Cricket Through the Ages (Devolver Digital)
Speed Demons (Radiangames)
Recordemos qué de lista anterior, Apple está destacando muchos de los juegos en diferentes categorías como: «Start Your Adventure», «New Arrivals», «You Have to Hear This», «No Time to Blink» y más.
Antes del debut de Apple Arcade, Apple ha dando un vistazo más profundo, a algunos de los juegos que se avecinan, incluidos los comentarios de los desarrolladores, y los detalles del juego en un artículo de Apple Newsroom. Los juegos cubiertos incluyen: «The Enchanted World», «Patterned, Overland», y «Card of Darkness».
Apple Arcade se lanzará oficialmente este Jueves 19 de Septiembre, junto con el lanzamiento de iOS 13. El servicio es de $4.99 por mes para toda la familia, con una prueba gratuita de un mes disponible.