Las mejores Apps de iPhone y iPad para viajeros frecuentes
por
12 de febrero del 2016 11:00 AM EST
/
Si alguna vez viajaste o estás pensando en viajar, debes saber que existen varias cosas que pueden ser un tanto complicadas de elegir al momento de planear tu viaje, aunque con la tecnología actual todo se ha vuelto mucho más sencillos con las apps, preferiblemente aquellas que se encuentran disponibles en tu iPhone o iPad con iOS.
Conoce las Mejores Apps de iPhone y iPad para Viajeros frecuentes
Estas son algunas de las apps más útiles para dispositivos iOS, que te pueden servir de guía en varias de esas decisiones que te toca tomar al momento de viajar y no sabes con certeza qué elegir, pues bien, con estas apps la cosa se te hará mucho más sencilla.
Foursquare
Cuando vas de viaje, uno de los principales aspectos es elegir cuales son los lugares que quieres visitar, es en este momento donde la aplicación Foursquare es tu mejor opción. Foursquare te ofrece una lista de los sitios más populares de cualquier lugar al que vayas a viajar, de los cuales te muestra información relevante como el precio, número de contacto, dirección, horarios, etc., para que puedas planear tu travesía de la mejor manera posible.
Además, Foursquare almacena tus preferencias para así ofrecerte una lista que se adecue a tus gustos personales, y en conjunto con la aplicación Swarm, te muestra los lugares que se encuentren más cercanos según tu ubicación actual. Así que cuando vayas a viajar, nunca habrá mejor fuente de información sobre a donde ir, que las recomendaciones hechas por tus amigos y las que te ofrece Foursquare.
Descargar Foursquare | iTunes App Store
Google Maps
Es verdad que Apple te ofrece su propio servicio de mapas con Apple Maps, que a pesar de ser muy bueno y estar mejorando continuamente, aún no llega al nivel que te ofrece Google Maps en cuanto a la función de direcciones de tránsito.
La app de Google Maps es la que mejor cumple con el trabajo de indicarte cual rumbo debes seguir para llegar al sitio que quieras, gracias a sus fáciles y detalladas instrucciones que te guiaran a lo largo del recorrido, te permitirán alcanzar tu destino sin ninguna complicación.
Un detalle importante de Google Maps es que te permite descargar los mapas de cualquier área, lo que te permite revisar direcciones en cualquier momento de tu viaje sin necesidad de conexión a internet. Además, Google Maps está programado para que cualquier mapa que se haya descargado se borre luego de un mes, evitando el consumo de la memoria de tu dispositivo.
Descargar G0ogle Maps | iTunes App Store
App in the Air
App in the Air te permite monitorear las condiciones de las diferentes colas del aeropuerto, gracias a información provista por otros usuarios de la aplicación, con la que puedes calcular perfectamente cuanto tiempo estimado necesitas para estar a tiempo para tu vuelo. Además, App in the Air lleva un registro de tus viajes, dónde puedes ver a qué lugares has viajado, en qué fecha y la cantidad de millas totales que has recorrido en tus viajes.
App in the Air es una app que es de especial utilidad para aquellas personas que viajan regularmente por temas de trabajo. Por otro lado, App in the Air la puedes encontrar gratuitamente en la tienda de aplicaciones, pero adicionalmente te ofrece un conjunto de funciones y notificaciones si decides suscribirte a la aplicación. Finalmente, App in the Air tiene una versión disponible para watchOS, para que puedas estar al tanto de la última información disponible rápidamente desde tu Apple Watch.
Descargar App in the Air | iTunes App Store
Airbnb
Si quieres experimentar realmente lo que es estar en otro lugar, no hay mejor forma que usar Airbnb para conseguir hospedaje en una habitación de cualquier lugar que visites.
Con esta app puedes conseguir un pequeño estudio o apartamento que se ajuste a tus necesidades, donde puedes ver como sería el vivir en el lugar al que viajes y que adicionalmente te puede salir considerablemente más barato que un hotel.
Decargar Airbnb | iTunes App Store
iTranslate Voice
Una de las mayores complicaciones al viajar a otro país es el idioma. Si por alguna razón deseas viajar a algún lugar pero no conoces el idioma nativo, no te preocupes más, ya que iTranslate Voice te ayudará a romper esta barrera sin problema.
iTranslate Voice te permite entablar una conversación directamente con un extranjero sin la necesidad de ingresar ningún texto en el dispositivo, sólo debes escoger el idioma que hablas y el que necesitas hablar en la aplicación, y listo. Este proceso es un más sencillo, si la persona con la que necesitas hablar también tiene instalada la app en su iPhone, dado a que iTranslate Voice te permite conectar los dispositivos para así hablar a través de ellos.
Un aspecto que hay que destacar es que para usar iTranslate Voice es necesario que tu dispositivo esté conectado a internet, por lo que si no tienes un plan de datos para el exterior o una tarjeta SIM extranjera, lamentablemente debes buscar otra opción.
Comprar iTranslate Voice | iTunes App Store
Uber
El creciente y popular servicio de transporte internacional Uber, es extremadamente útil no solo cuando vas de viaje sino también cuando no tienes carro propio, aunque este servicio no está disponible en cualquier parte del mundo. El servicio de transporte es increíble y también es considerablemente más barato que el servicio de taxis tradicional.
Uber te permite escoger diferentes aspectos de tu transporte dependiendo de los carros disponibles, desde la marca hasta el tamaño, e incluso en ciertas partes también está disponible el transporte en avión. Además te ofrecen la opción del servicio UberXL que te consigue un transporte grande, ideal para ocasiones donde haya muchas personas y/o mucho equipaje.
Descargar Uber | iTunes App Store
Amount
Otro aspecto importante al momento de viajar es el dinero, Amount te permite saber y calcular cuánto equivale cierta cantidad de dinero dependiendo de las tasas de cambio de la moneda de un país, lo que la convierte en una aplicación indispensable al momento de viajar.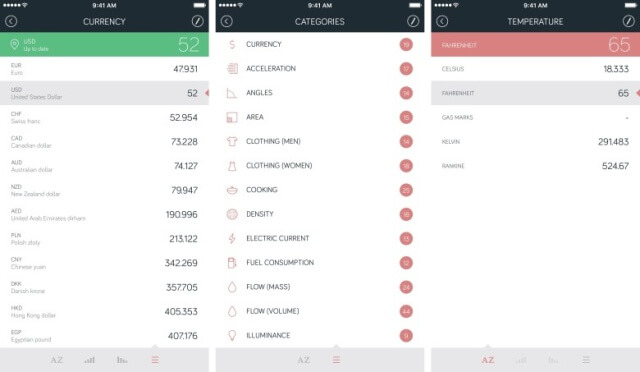 Adicionalmente, Amount no sólo trabaja con conversiones de dinero sino con más de otras 30 categorías de conversión como distancia, temperatura, área, entre otras… por lo que al momento de pagar los 0,99 dólares por la aplicación, debes considerar las diferentes funciones que esta herramienta te ofrece.
Comprar Amount | iTunes App Store
Como ves, existen varias apps que te pueden ser de utilidad al realizar un viaje, o bien, que seas de aquellos que visita un aereopuerto u otros países muy a menudo independientemente de la razón que tengas, las apps anteriores se encuentran al alcance de tu iPhone o iPad con iOS para facilitarte las cosas en esos momentos.