iOS 10 impelmenta nuevas funciones por medio del 3D Touch en el centro de control
por
17 de junio del 2016 7:00 PM EST
/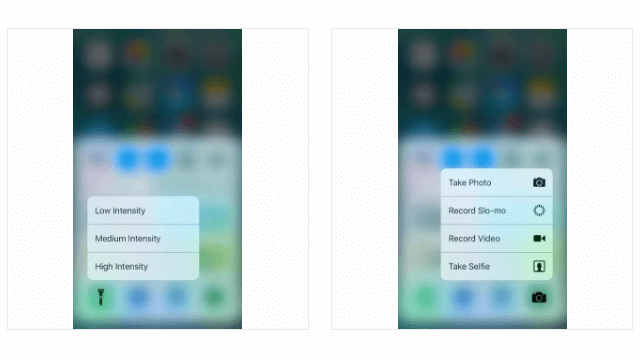 Por el momento, la función de accesos directos del centro de control por 3d Touch, sólo funciona en los iPhones más recientes de Apple, es decir, el iPhone 6s, 6s Plus y SE que contengan el chip M9. El co-procesador M9 se encuentran también en  el iPad Pro, pero la función "Raise to Wake" no parece ser compatible con estos dispositivos a partir de la primera beta de iOS 10.
Raise to Wake no sólo es técnicamente posible en dispositivos de Apple más recientes sino que es casi necesario. los últimos sensores de identificación táctil de Apple, encontrados en el iPhone 6s y iPhone 6s Plus, responden tan rápidamente que cuando se intenta activar un dispositivo con el botón de inicio, se puede omitir completamente la pantalla de bloqueo, haciendo las notificaciones o widgets ubicadas allí inútiles.
iOS 10 ya está disponible para los desarrolladores, llegará a beta pública en julio y se espera que se lance oficialmente en algún momento del tercer trimestre de este año, probablemente en septiembre, periodo en el que sale el iPhones 7.
Deslizando hacia la izquierda desde la entrada del centro de control, se muestra un menú de música dedicada, que actualmente no tiene ninguna capacidad Touch 3D en iOS 10 beta 1. Pero si se hace un toque más fuerte hacia la izquierda, se muestra una nueva visión de HomeKit donde es posible efectuar una acción táctil 3D.
En la vista predeterminada de "accesorios favoritos", utilizando 3D Touch en un accesorio específico aparece un nuevo menú con controles más avanzados.
El menú del centro de control de HomeKit  también cuenta con un enlace a las "escenas" programadas por el usuario. Estos también se pueden presionar con  la acción de un toque 3D para acceder a más opciones, basados en dispositivos y configuraciones.
iOS 10 está actualmente disponible para los desarrolladores y se expandirá a un programa de beta pública en julio. La actualización gratuita para iPhone, iPad y iPod touch está prevista que sea lanzada posiblemente en septiembre.