Errores de Cydia
por
20 de junio del 2014 2:39 PM EST
/
Existen varios usuarios que piden ayuda con respecto a los errores de cydia, es por ello que trataremos de solucionar algunos de los errores más comunes en Cydia.
"Wow, you exceeded the number of packages names this APT is capable of"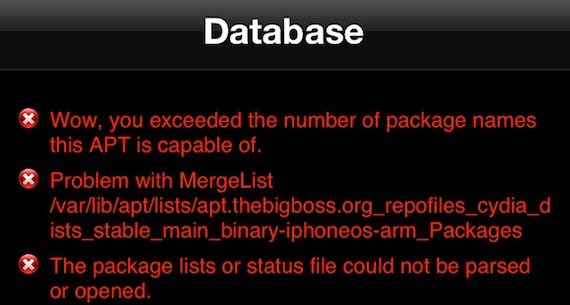 Ve a Cydia en la sección de Manage>Sources y remueve los repositorios que menos utilizas. Muchas personas deciden remover el de ZodTTD que aunque viene por defecto, no es la que contiene las cosas mas cool. De todos modos, es posible que tengas repositorios de xSellize u otros de piraterías, aprovecha y remuevelos. El error desaparecerá solo.
"sub-process/usr/bin/dpkg returned an error code"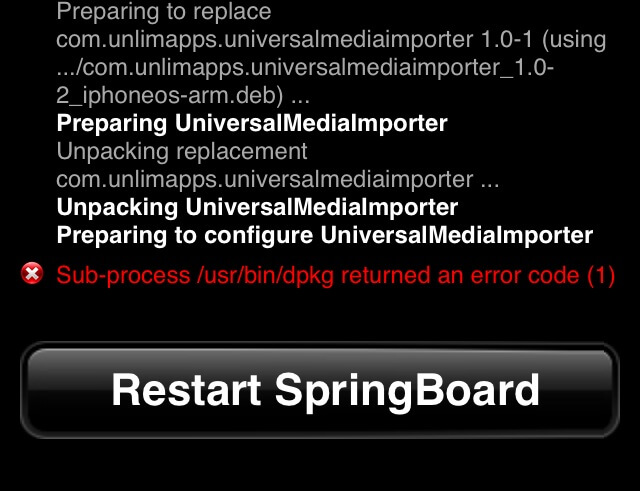 Este ejemplo es para un iPhone 4S (iOS 7.0.4)
Pasos:
1. Conecte su dispositivo.
2. Abra la herramienta evasi0n 7 e iniciar el proceso de jailbreak de nuevo
3. Usted verá un aviso en el software "iPhone 4S (iOS 7.0.4) ya tiene jalbreak". (Aquí se puede pasar por alto esta frase)
4. Directamente haga clic en el botón [jailbreak].
5. Esperar hasta que aparezca la palabra en evasion7 "por favor desbloquear el dispositivo y pulse el icono de evasión". En este caso, por favor, ten cuidado! No siga las instrucciones. Por favor, siga estos pasos:
1 – Ir a la pantalla principal.
 2 – No haga clic en el icono de la evasión, pero mantenga presionado el icono de evasión hasta que los iconos sacuden.
3 – Eliminar icono de la evasión.
4 – En la herramienta, jailbreak Exit en el equipo.
5 –  Finalmente, haga clic en Cydia.
6. Espera que  Cydia cargue automáticamente los datos.
 "Size Mismatch"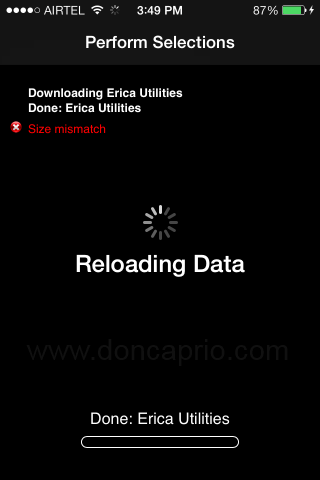 si un paquete se muestra como 50 kb de tamaño y en realidad es más grande o más pequeño en tamaño que lo que dice Cydia, eso no va a instalar. Se dice que el mantenedor repo tiene que insertar el tamaño adecuado o de la suma de comprobación del archivo deb envasados ​​en el servidor.
Tamaño: No coinciden los mismo paquete, de diferentes tamaños en diferentes Repos
Lo que observé fue diferente, sin embargo. El paquete en cuestión estaba disponible en tres depósitos diferentes. Dos de ellos mostraron el mismo tamaño y el tercero era un diferente. Este paquete apareció como 55.1KB en dos centros de almacenamiento y 54.0KB en el tercero
La solución simple
Todo lo que hice fue eliminar el repositorio mostrando un tamaño diferente para este paquete y esto ha solucionado el problema. Esto podría funcionar para usted también, si el error "Size Mismatch" que está recibiendo es causada por tener el mismo paquete con diferentes tamaños que aparecen en diferentes repositorios.
Si el error es causado por discrepancia en el tamaño del paquete de la lista y el tamaño real del paquete, en contacto con el mantenedor del repositorio puede ser la única solución.
POSIX: Socket is not connected
Hoy mismo, yo estaba descargando un archivo grande desde Cydia en 3G, un archivo de más de cien megabytes y este error sigue apareciendo de vez en cuando. Nunca descargue nada de Cydia que grandes y como una cuestión de hecho, nunca he visto este error antes. Hace algunos días, ahora que he estado tratando de bajar el archivo, pero lo mantiene a medio camino de ruptura. ¿Se pregunta qué podría estar mal?, he intentado algunas soluciones que no funcionan y alguien incluso querer volver a hacer jailbreak
Ahora, la razón de que esto sucede no es más que la conexión de red. Yo estaba haciendo esto con una conexión 3G, pero el problema fue que descubrí que no era tan potente. A veces, se vuelve automáticamente a EDGE y esta fue la razón por Cydia mantuvo mostrar que el error y un archivo de 115 MB necesita una buena conexión para descargar sin problemas. Tuve la suerte de Cydia tiene la posibilidad de reanudar descargas interrumpidas.
De todos modos, He arreglado el problema mediante el uso de una conexión WiFi estable y dentro de una hora, el archivo estaba completamente descargado. Sin embargo, si ya con WiFi  el error sigue, es posible que tenga que cambiar la configuración del teléfono.
"Failed to fetch"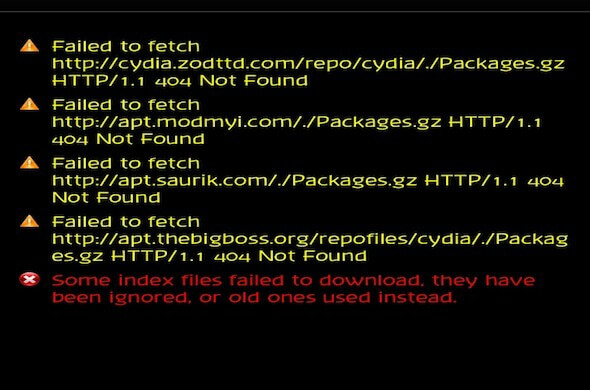 Esto suele suceder cuando no existe una fuente. Puede haber escrito en el URL equivocado, la fuente haya apagado o la fuente puede ser roto. Esto es a menudo un problema temporal, por lo que esperar unas horas y tratar de volver a cargar los datos de nuevo. Si sigue ocurriendo, prestar atención a la mensaje de error para encontrar la URL del repositorio roto, y entonces usted puede optar por eliminar ese repositorio, vaya a Administrar , aprovechando las fuentes , y aprovechando Editar . (En el iPad, pulsa Fuentes y luego en Editar .) Si la fuente no se puede quitar de esa manera, es posible que se haya instalado como un paquete, lo que significa que usted necesita para desinstalar el paquete del repositorio.
"POSIX error: Operation Timed Out"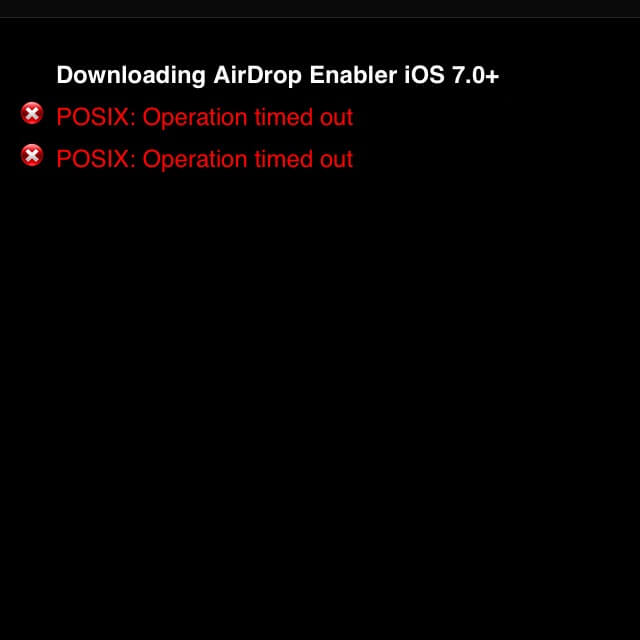 Asegúrese de que su dispositivo tiene acceso a Internet y vuelva a intentarlo.Si este error sigue ocurriendo, son probablemente causados ​​por un servidor de repositorio está temporalmente fuera de línea. Inténtelo de nuevo más tarde. También puede optar por eliminar el repositorio (consulte el procedimiento anterior).
"untrusted server certificate" or "an SSL error has occurred"
No le permite utilizar Cydia, compruebe la fecha de su dispositivo esté configurado correctamente (usando Configuración de aplicaciones de su dispositivo)
"GPG error"
Esto significa que un repositorio no está configurado correctamente. Generalmente, usted puede ignorar esto.
"Sub-process bzip2"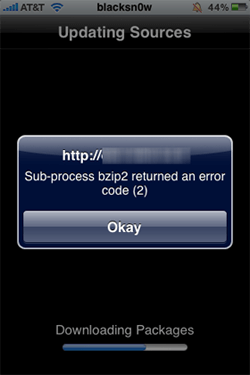 Herramientas necesarias
Win : Winscp
Mac : CyberDuck y TextEdtit
en iPhone OpenSSH instalado
Cydia Abrir y vera el error que dara la repo, eso se debe a una repo, la cual vamos a eliminar.
Para solucionar este problema tenemos que editar el cydia.list y eliminar la repo Entonces entre a SSH y vaya a /private/etc/apt/sources.list.d y encontrar cydia.list
En Mac con Cyberduck, copie el archivo a Finder(escritorio) y edite !!En windows WinSCP solo con el boton derecho sobre el archivo /editar, u modficar, no recuerdo bien..
Eliminamos las repos que nos da error.
Guarden los cambios ( Si tienen desconfianza hagan un respaldo de cada Archivo)
Ahora nos vamos a /private/var/lib/Cydia, copie el metadata.plist a su ordenador y abrirlo para editarlo, escriba la repo que este dando el error , a continuación, eliminarlo, guardar los cambios, y reemplazar el plist
Vaya a /private/var/lib/apt/lista y quitar los archivos de partida con el nombre de su repo que este mal.L
Luego de editarlo.. guardar y reemplazar en SSH
Vaya a /private/var/lib/apt/list/parcial y luego eliminar los archivosque esten dando error!!
Abre cydia y no te dara el error.
Si uso en du dispositivo "Borrar contenidos y ajustes" opción, ¿por qué mi dispositivo no arranca?
En los dispositivos con jailbreak, utilizando la opción "Borrar contenidos y ajustes" en Configuración de aplicaciones de su dispositivo hará que el dispositivo requiera una restauración completa. : (
Esto sucede debido a que durante el proceso de jailbreaking, su herramienta de jailbreak reorganiza algunos de los archivos de su dispositivo con el fin de dar cabida a Cydia y otros archivos-jailbreak solamente, por lo que la opción "Borrar contenidos y ajustes" termina borrando los archivos importantes en su lugar de sólo configuración.
muchas veces al instalar un tweaks, luego de un respring, este ocaciona un error dejando a tu dispositivo en modo safe, o en la manzana y el circulito
eso pasa cando este no es compatible o esta mal actualizado. Las solucion es desintalar este tweaks.
NOTA: SI HAY ALGUN ERROR QUE DESEEN QUE EXPLIQUE O QUE USTEDES TENGAN LO ESCRIBEN Y ESTE POST LO EDITAREMOS PARA REPARAR LOS VARIOS ERRORES QUE HAY EN CYDIA