El Dream Team ya tiene Exploits para iOS 6.
por
25 de mayo del 2012 2:22 PM EST
/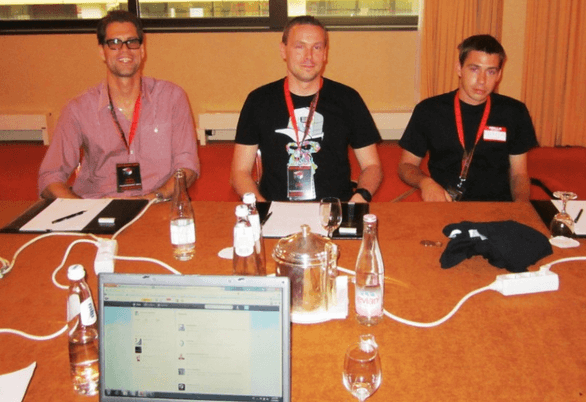 Como ya todos sabéis a estas alturas se ha estado celebrando en Amsterdam la conferencia de Hackers de iOS, Hack in the Box, en la cual el Dream Team, que es el "equipo de un sueño" compuesto por el iPhone DevTeam y Chronic Dev Team ha anunciado muchas novedades.
Entre ellas nos encontramos con el Jailbreak Untethered de iOS 5.1.1 con Absinthe que fue lo más hablado pero también han comentado que han encontrado algún exploit que funcionará en iOS 6 pero que es muy importante para ellos y que no dirán nada más al respecto.
We won't give up on jailbreaking iOS devices because this is too important for us and we already have a part of the jailbreak for iOS 6 and we will be ready right on time for it
Ah y como curiosidad os dejo las fotos de los hackers aún que todavía no os podemos decir quien es cada uno, pero siempre es bueno ponerles cara. También han comentado que el coste aproximado de encontrar cada exploit ya que se lo ha preguntado un periodista y han respondido que cada exploit para iOS cuesta alrededor de $100,000, algo que particularmente me deja alucinado.
This is a difficult question to answer, but it's a lot. Every jailbreak exploit represents like, maybe, $100,000. This is the price of all root exploits.
Así que podríamos suponer que tendríamos pronto Jailbreak para iOS 6!!