El Jailbreak Extra_recipe + YaluX recibe su cuarta actualización Beta
por
29 de mayo del 2017 7:43 PM EDT
/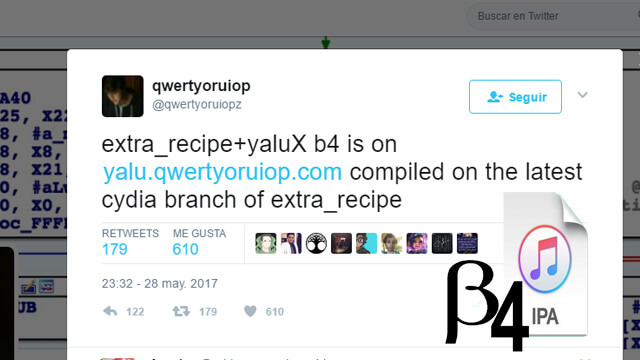 Muchos rumores en la comunidad del Jailbreak surgen de diferentes fuentes
Hay que tener en cuenta los usuarios más reconocidos de la comunidad
Muchas especulaciones sugieren que pronto habrá Jailbreak, cosa que es probable, más no verídico
En plena incertidumbre, Xerub lanza un nuevo Jailbreak para el iPhone 7 y el iPhone 7 Plus llamado extra_recipe + YaluX y éste recibe su cuarta actualización beta
En esta ocasión hablaremos acerca del Jailbreak de iOS 10.1.1, y como es que ha recibido una actualización
Se tomara en cuenta las circunstancias pasadas y algunas consideraciones
Acerca del Jailbreak extra_recipe + YaluX
El hacker Xerub ha lanzado una versión actualizada del Jailbreak Match Portal de Luca Todesco. El nuevo Jailbreak se llama extra_recipe + YaluX y promete ser de gran ayuda para los usuarios del iPhone 7 y iPhone 7 Plus
Luca Todesco colaboró con el nuevo Jailbreak y lanza la cuarta beta
El "código" extra_recipe fue colocado en el ipa de match portal/yalu que desarrolló Luca Todesco para crear la nueva herramienta conocida como extra_recipe + YaluX.
Luca Todesco mencionó que el Jailbreak fue actualizado a su cuarta versión Beta. Esta actualización añade compatibilidad nativa con Cydia Substrate. La actualización se realizó para mejorar Cydia en los dispositivos de 64 Bits en las versiones de iOS 10.0-10.1.1
extra_recipe+yaluX b4 is on https://t.co/06ytqT4Q4f compiled on the latest cydia branch of extra_recipe

— qwertyoruiop (@qwertyoruiopz) May 29, 2017
¿Puedo instalar Cydia con el nuevo Jailbreak extra_recipe + YaluX?
Si, usted podrá hacer el Jailbreak con este nuevo ipa, de hecho, más abajo encontrará el tutorial para descargar el ipa pero tenga en cuenta necesitará también Cydia Impactor para instalarlo
¿Cómo hacer el Jailbreak con extra_recipe + YaluX?
Descarga el ipa del Jailbreak desde AQUÍ
Descargar Cydia Impactor AQUÍ
Conectar el dispositivo vía USB  a la PC
Ejecute Cydia Impactor como administrador
Arrastre el ipa de extra_recipe + YaluX previamente descargado hasta Cydia Impactor
Coloque su Apple iD y Contraseña
Una vez instalado, dirígete a los Ajustes del dispositivo, General, Administración y Administración de Dispositivos y seleccione su Apple iD
Otorgue los permisos de la aplicación instalada para poderla ejecutar
A partir de aquí ya podrá iniciar el Jailbreak y hacerlo sin problemas. Este ipa ya viene con la actualización y con las mejoras integradas, en este sentido Cydia Substrate se integraría nativamente.