Cómo conectarse a una VPN automáticamente en el arranque o inicio de sesión en Mac OS X
por
11 de agosto del 2016 7:00 PM EST
/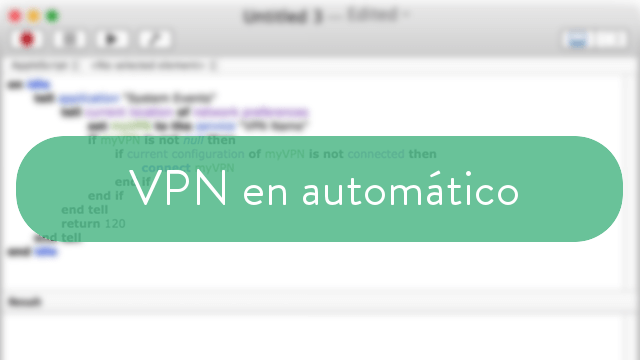 Si utilizas un VPN en tu Mac por trabajo o por motivos personales, puedes tener la Mac conectada automáticamente al servicio VPN cuando arranque el sistema o se inicie sesión. O quizás simplemente quieres que el VPN automáticamente se reconecte si la conexión cae y se desconecta. Esto se logra fácilmente con la ayuda de un simple AppleScript, que te enseñaremos en el siguiente tutorial.

Obviamente vas a necesitar un servicio de VPN funcionando en Mac OS para que la secuencia de comandos para trabajar, de lo contrario el script no tendrá nada para conectarse durante el arranque del sistema e inicio de sesión.
Cómo conectarse a una VPN automáticamente en el arranque o inicio de sesión en Mac OS X
Esta conexión automática VPN script debería funcionar en cualquier versión de macOS o Mac OS X.
Abre el "Editor de Script" en Mac, se encuentra dentro de la carpeta /Aplicaciones/Utilidades /
Ve al menú Archivo y elige "Nuevo"
Copia y pega la siguiente sintaxis del AppleScript en el nuevo editor de secuencia de comandos en blanco:
 on idle
 tell application "System Events"
 tell current location of network preferences
 set myVPN to the service "VPN NAME"
 if myVPN is not null then
 if current configuration of myVPN is not connected then
 connect myVPN
 end if
 end if
 end tell
 return 60
 end tell
 end idle
Reemplaza "VPN NAME" con el nombre de la ubicación de red VPN que lo acompaña y que se encuentra en el panel de control red de preferencias del sistema.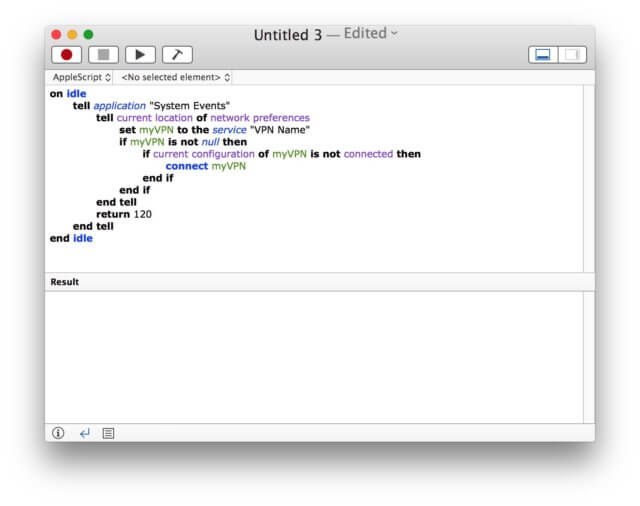 Vuelve al menú "Archivo" y selecciona "Guardar"
En el menú desplegable de 'Formato', elige "Aplicaciones"
Marque la casilla junto a "Mantener abierto" (Stay open)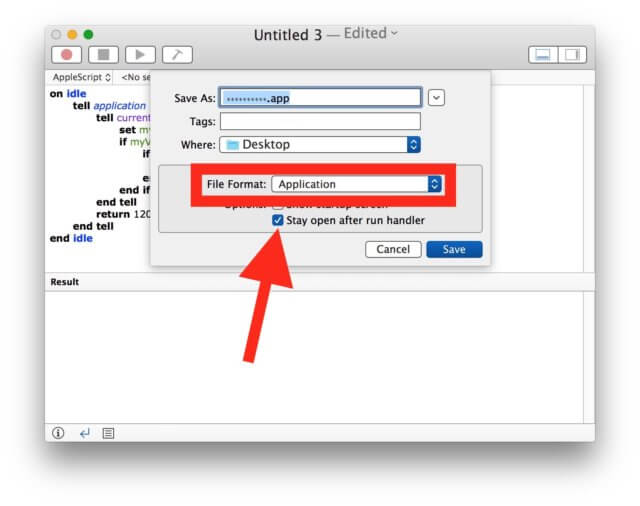 Ahora elige "Guardar" y pon un nombre al script de VPN como "scriptvpn" y  ubícalo en algún lugar fácil de localizar.
A continuación ve al menú  de la barra principal y selecciona "Preferencias del sistema" y ve al panel de control "Usuarios & grupos"
Elige el nombre del usuario activo ya continuación, selecciona "Login Items" (arranque). Depende de la configuración del idioma del sistema.
Arrastra y suelta la aplicación "scriptvpn" que creaste  para que cargue automáticamente en el arranque del sistema y en el inicio de sesión .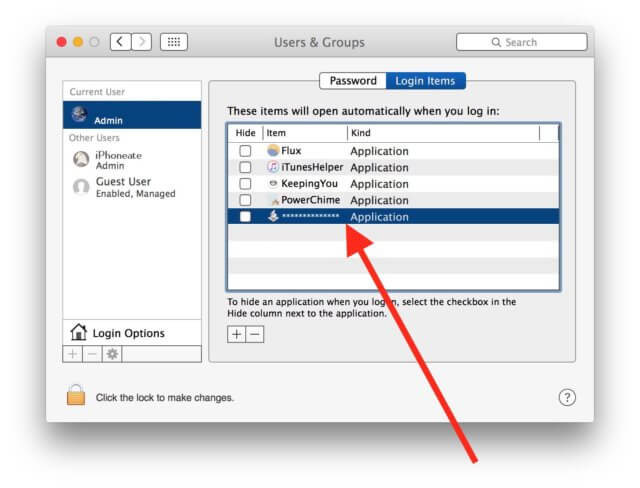 Y listo, eso es todo.