Ask to Buy: Controla lo que tus hijos compran en iTunes, iBooks, y App Store
por
11 de marzo del 2016 7:38 PM EST
/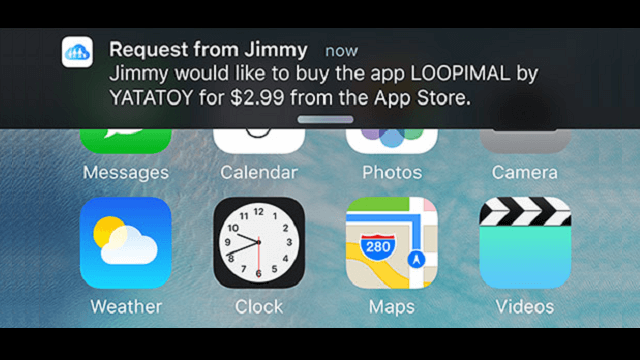 La responsabilidad de utilizar tarjetas de crédito u otras fuentes para comprar aplicaciones en la App Store, es algo que está presente en las personas que están conscientes de los gastos, quienes se limitan a descargar y pagar por aquellas que en verdad han llamado su atención.
Por otra parte, los usuarios más jóvenes no toman en cuenta esto, y como consecuencia, compran una gran cantidad de aplicaciones en el portal de descargas, que luego, se ve reflejada en la tarjeta de crédito de los padres o personas a cargo.
Apple ha tenido bastantes inconvenientes con dicha situación, y es por ello que decidió tomar una solución definitiva. Para dar un mayor control a los padres de lo que sus hijos compran, la compañía desarrolló un sistema de control parental, mejor conocido como "Ask to Buy", una función que se encuentra disponible tanto en iOS, como en OS X.
Cómo utilizar Ask to Buy
Si tienes algún hijo que disponga de un iPhone o Mac, la decisión más sabia que deberías tomar, es la de habilitar la función Ask to Buy, lo cual, evitaría altos cargos ocasionados por las aplicaciones que se han descargado sin tu autorización. En el caso de que no tengas conocimiento de cómo utilizar Ask to Buy para tener un control de lo que compra tu hijo, a continuación de mostraremos cómo hacerlo:
Configurando Ask to Buy desde un iPhone
Desde tu dispositivo iOS, dirígete a la aplicación de Ajustes y luego accede a iCloud > Set Up Family Sharing.


Ya con la función activa, lo siguiente será acceder a Settings > iCloud > Family.


Seguidamente, añade los familiares que desees, de esta manera, podrás habilitar la función Ask to Buy para todos, dándote el control de permitirles o negarles la descarga de aplicaciones con algún tipo de cargo.
Administrando Ask to Buy desde tu Mac
A través de la barra de menú, accede a System Preferences > iCloud.


Haz clic sobre la opción Manage Family.


Luego de pasar a la siguiente ventana, selecciona la opción Add Family Members… y luego añade aquellos miembros de tu familia que deseas incluir en Ask to Buy.

Cómo funciona Ask to Buy
Cuando uno de los hijos, o familiares incluidos en Ask to Buy quieran comprar alguna aplicación de la App Store, estos simplemente deben pulsar sobre la opción para adquirirlo y esperar una confirmación.
Por otro lado, al padre o persona a cargo, se le notificará que se desea efectuar la compra de dicha aplicación, en donde este tendrá la decisión de aceptar los cargos a su tarjeta de crédito o, declinarlo.