Apple Pay añade soporte a otros 27 bancos en los Estados Unidos
por
4 de marzo del 2016 1:18 PM EST
/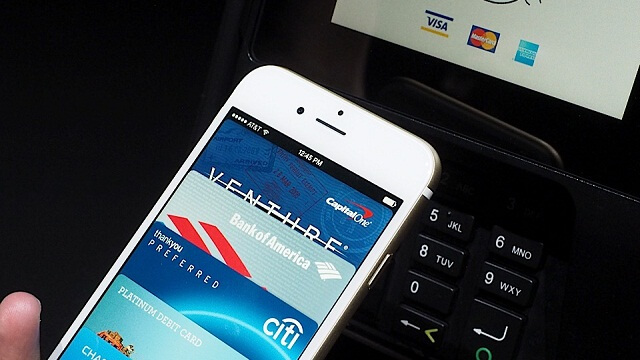 Apple Pay, desde su lanzamiento en China, apenas hace dos semanas, ya ha logrado sumar en tan sólo 3 días un total de 3 millones de usuarios en dicho país. Por ello, Apple haa tratado de que su servicio de pagos no se quedé hasta allí, y continúa expandiendolo en todo el territorio de los Estados Unidos, y es que el día de hoy otros 27 bancos se añaden a la lista que ya suma más de 1000 bancos soportados por la plataforma.
Apple Pay sigue expandiendosé por todo los Estados Unidos
Apple Pay esta pretendiendo ser el sistema de pagos número uno de los Estados Unidos, y es que debido a ello, su campaña en dicho país es sólo la primera "manzana" del árbol que pretende cultivar Apple con su plataforma. Estos son los últimos 27 bancos que se encuentran con soporte de Apple Pay para todo tipo de operaciones:
1st Community Federal Credit Union
Abacus Federal Savings Bank
Bank of England
BankFirst Financial Services
Bull's Eye Credit Union
Colfax Banking Company
Columbia Bank Florida
First Bank
First Federal Bank of Louisiana
First National Bank of Durango
First Southern National
Franklin First Federal Credit Union
Green Country Federal Credit Union
Gulf States Credit Union
Guthrie County State Bank
Henrico Federal Credit Union
Lone Star National Bank
Mill City Credit Union
Modern Woodmen Bank
Pasadena Federal Credit Union
PNC Bank, Global Investment Servicing
Raleigh County Federal Credit Union
Sage Capital Bank
St. Landry Bank and Trust Co.
TCM Bank
West Milton State Bank
Sí eres de aquellos usuarios que desea saber si su banco ya cuenta con soporte para dicha plataforma, para poder disfrutar y gozar de los beneficios que ofrece la misma, puedes ver el listado completo que maneja la compañía desde Lista Oficial de Bancos Soportados por Apple Pay.
Apple Pay representa una idea innovadora y segura a la hora de realizar pagos en cualquier comercio, por ello, ya son muchos los que esperan que esta, se encuentre disponible lo más pronto posible en su localidad.