Apple Music conmemora 40 años de Apple con canciones especiales
por
5 de abril del 2016 8:08 PM EDT
/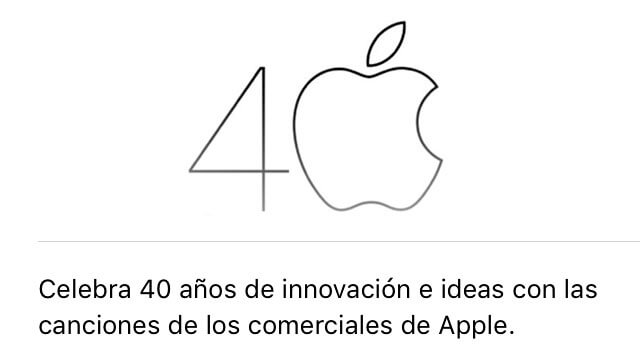 La celebración de Apple por sus 40 años aún continua, y esto lo comentamos, a raíz de que Apple Music ha conmemorado este hecho, con la elaboración de un playlist con canciones especiales para la compañía.
La lista de reproducción lleva por título "Apple 40", y en su contenido, la aplicación nos presentan 40 temas extraídos de los anuncios, que Apple ha emitido durante todos estos años.
Apple 40 tiene una duración de 2 horas, con más de 40 pistas. Dentro de las canciones seleccionadas, participan casi todos los géneros, que van desde el rock hasta electrónica.
Apple celebra sus 40 años de innovación e ideas con canciones de sus comerciales

Las canciones que incluye Apple 40 son:
All You Need Is Love – The Beatles
She´s a Rainbow – The Rolling Stones
1234 – Feist
Feel Good Inc. – Gorillaz
Bruises – Chairlift
Jerk It Out – Caesars
Rill Rill – Sleigh Bells
No Diggity – Blackstreet
Can´t Feel My Face – The Weeknd
Ooh La La – Goldfrapp
Are You Gonna Be My Girl – Jet
Lose Yourselft – Eminem
No You Girls – Franz Ferdinand
Bourgeois Shangri-La – Miss Li
Mi Swing Es Tropical (feat. Quantic &Tempo) – Nickdemus
Lisztomania – Phoenix
Flathead – The Fratellis
Figure It Out – Royal Blood
Rock Star (Jason Nevins Remix Edit) – N.E.R.D
Black Mambo – Glass Animals
New Soul – Yael Naim
Someone Like You – Adele
Ex-Factor – Lauryn Hill
Work That – Mary J. Blige
Viva la Vida – Coldplay
Vertigo – U2
Sunburn – Muse
Pitbull – Matt Costa
Sound & Color – Alabama Shakes
Shut Up and Let Me Go – The Ting Tings
Technologic – Daft Punk
Too Original ( feat. Elliphant & Jove Rockwell) – Major Lazer
Who´s Gonna Sing? – Prototypes
Submarine Symphonika – The Submarines
White Room – Cream
Born To Be Wild – Steppenwolf
Blue Suede Shoes – Elvis Presley
Someday Baby – Bob Dylan
Someday at Christmas – Stevie Wonder & Andra Day
Dance Tonight – Paul McCartney
Entre tantas canciones añadidas a esta lista de reproducción, hay que recordar que gran parte de la historia de Apple, se encuentra reflejado en la TV por los comerciales.
Es por ello, que Apple hoy en día no sólo es una marca que se distinga por sus comerciales de TV,  sino que además se caracteriza por tener en su haber, una de las mejores producciones para Anuncios.