Apple cancela programa One to One para iniciar Talleres gratuitos
por
27 de agosto del 2015 3:03 PM EST
/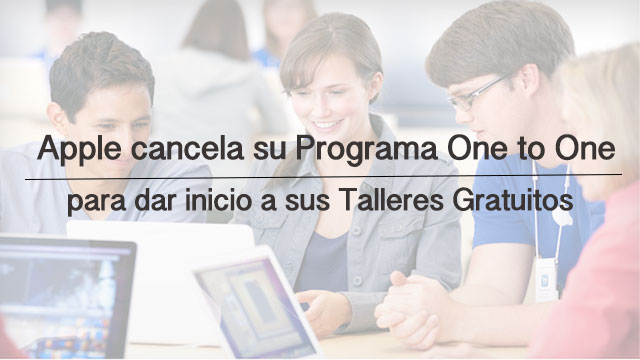 Algo que ha venido siendo en las últimas semanas un rumor, hoy se acaba de confirmar. Y es que Apple canceló su programa "One to One", para dar inicio al desarrollo de sus talleres gratuitos.
Para muchos ha sido una gran sorpresa, tras confirmarse que la compañía retiró su conocido Programa One to One. Programa de formación y ayuda, que beneficiaba a todos los compradores, que adquirían un nuevo dispositivo. Y en el que disponían de un colaborador de Apple, para orientarlos ante cualquier duda
que ellos tenían, entorno a su dispositivos Mac, iPhone, e iPad; durante todo el año, y en determinados horarios, a través de las tiendas de Apple.
Y esta noticia, tal como lo mencionamos inicialmente, se debería a que la compañía estaría priorizando, dar inicio a sus próximos talleres públicos y gratuitos. En las que sus empleados, aplicarán un nuevo modo de enseñanza clasificados en categorías "Descrubre" y "Crea"; y en el que se tocarán conceptos básicos de Mac, iCloud, Fotografía, personalización de nuestros iPhone, iPad y Mac respectivamente.
Hay que tener en cuenta, que el Programa "One to One" seguirá estando vigente, esto hasta que se expiren las membresías que los usuarios adquirieron al comprar sus nuevos dispositivos.